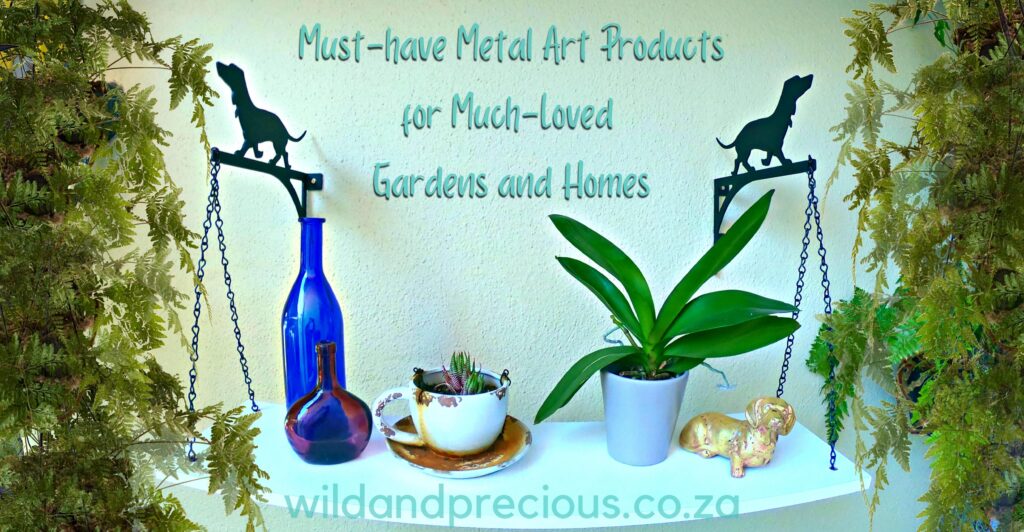 Wild and Precious Home
At Wild and Precious we are always creating gorgeous, functional items for your home and garden.
Inspired by golden sunsets and clear blue skies, we created a range of silhouette Metal Art that will enhance any setting in your garden or home that you choose. Functional and practical, our Wall Brackets are ideal for displaying wind chimes & hanging baskets, supporting dog leads or the night-gown of a dreamer.
All our Products are artfully designed by Owner/Designer Carina Crayton, made from 3mm Mild Steel, Lasercut to Perfection, and Powder-Coated for durability, with a lightly-textured Satin-Black finish, to show off the Silhouettes to perfection.
Available in South Africa only, (courier abroad by special request only) we carefully hand-wrap and courier your Product with the greatest of care, for a speedy delivery to your closest PostNet branch.
Questions?
NEW RANGES:
We're currently expanding our range to include Garden Spikes (like the iconic Fairy family - first designed by us in the early 2000's - now redesigned for a modern twist), Life-size Cat Silhouette Spikes and much more.
We're also developing a range of coat hanger / key holder Wall Hooks for use with whatever your heart desires. These will be suitable for handbags, garden equipment, kitchen utensils, night gowns etc.
News on NEW Products can be found by clicking here, or in our Blog Section here.